Mirnah Technology Systems (MTS) is a leading provider of Software Products for Enterprise Mobility having the largest team of software developers in the Mobile Computing business in the Middle East. Established in 1995, the company has become a leader in implementing eCommerce, Sales Automation and Distribution systems with over 26 years of experience with large FMCG companies. Today it has the largest FMCG companies and distributors across the GCC as its clients.
Thank you for your interest in Mirnah Technology Systems(MTS). I am Reji Nair, Chief Executive Officer. It gives me great pleasure to introduce MTS – the leading and the most experienced Enterprise Mobility, Ecommerce & Cloud Software company in the Middle East and Africa.
MTS was formed twenty six years ago in 1995 with the vision to integrate Mobile Computing technology into the Supply Chain of the Manufacturing and Distribution companies in the region. Over the last several years MTS' progress and accomplishments have resulted in many firsts in the Enterprise Mobility business.
From small beginnings our business has seen significant growth and marked improvement in all indicators. Our clients include the top brands in the region and I am proud of the fact that some of them have us as their Enterprise Mobility vendor for the last 15+ years.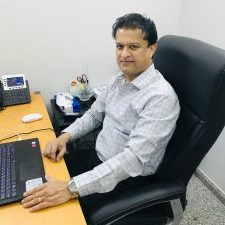 Read More
MTS is in the midst of a transformation. I have now been CEO of MTS for more than 5 years and can affirm that the high pace of change I encountered when I started with MTS 15 years back has not slowed down. Like all Technology companies we too have experienced a great deal of change during the last 10 years. There's been several disruptive technologies that have affected our business model. The consumerization of IT and the concept of BYOD has hit us and made us rethink our strategies many times. But our commitment to stay ahead as the leader of Enterprise Mobility has not waivered.
Some of the steps we have taken in the past 7 years are:
Shifted focus to eCommerce with our B2B platform for retailers to trade with manufacturers
Added a new Artificial Intelligence based Demand Planning and Forecasting software that can be used by companies for their Supply chain planning, Production Planning and Distribution Planning.
New Software for Asset Management and Field Service to help our customers monitor, track and maintain assets in and outside their offices.
Developed our own internal Business Intelligence & Analytics software.
Partnered with Honeywell's VoCollect to deliver Voice based data collection that connects with major ERPs.
Partnered with WiseShelf for IOT based Smart Retail Shelves
Partnered with WorkWave for Last Mile delivery
Partnered with SAP and executed a Co-Innovation Project with them for Mobile Sales Force Automation
As a CEO I wear multiple hats and play many roles in the service of our company. I attribute my success in Mirnah to the following 3 factors:
I feel very privileged and fortunate to manage a team of young and energetic professionals, who are both hard-working and progressive.
The trust and support of the partners, who have continuously motivated me to do more and have rewarded me when applicable.
The Amazing growth of the Middle East market and in particular Saudi Arabia in the past two decades.
Having said that, we are aware of the new challenges in terms of regional issues and technical disruptions. MTS has recognized the need to change and adapt to these conditions fast. Our focus for the next few years will be to expand geographically outside the Middle east and make our software products easier to implement and manage in a Cloud based subscription mode. I thank you once again for visiting our web site.
Reji Nair
CEO
r.nair@mirnah.com
To connect people and technology together to deliver world class user experiences and to support businesses by providing best software solutions as per their needs.
To help customers achieve their business objectives by providing best-in-class Software, consulting and services.